More on the SFO crash:

My Facebook friend David Eun (Samsung exec) was on the plane that crashed at SFO. He posted video right after he escaped. Unfortunately he posted that to friends only, so I can't properly reshare it.

I'm seeing so much misinformation on Twitter and elsewhere. I don't get why people pass along stuff like that (and the pros aren't much better, one "pro" report said it was a cargo plane).

Some other things that really bug me: people who steal photos without giving credit to the person who posted (and a link to the original).

Anyone who does either of these sins really isn't helping anyone and usually gets a quick unfollow from me.

The best place to find news after a breaking story like this? Twitter, because of its search engine: https://twitter.com/search?q=SFO had dozens of photos within 30 minutes of the accident.

My thoughts with the few people injured (I'm hearing at least one critically).

Lots of friends are stuck in airports around the world, too. Dave Winer was supposed to land shortly after the crash at SFO, but his flight was diverted to Las Vegas instead.

Sheryl Sandberg reports she wasn't on the plane (many were asking, because she was just in Korea).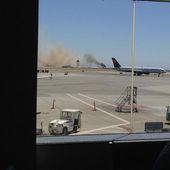 twitter.com
The latest and best tweets on sfo. Read what people are saying and join the conversation.