Robert Scoble - Google+ - The Google Glass God This is an awesome interview of Thad…
It's not often that I recommend a video that isn't mine. This is one of those times. Nikola Danaylov did a wonderful job interviewing Thad Starner, who is the big brain behind Google Glass.

This is well worth your hour.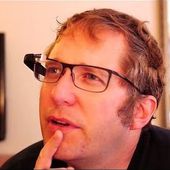 Robert Scoble - Google+ - The Google Glass God This is an awesome interview of Thad…
plus.google.com
The Google Glass God This is an awesome interview of Thad Starner by +Nikola Danaylov. Don't know who Thad is? He is the wearable computing pioneer that…