Robert Scoble - Google+ - Stunning baseball photos, all shot on iPhone/Instagram My…
When I was attending San Jose State back in the early 1990s one of the students made an impression by putting a $10,000 lens onto his credit cards. That student was Brad Mangin and he's gone on to be one of the best sports photographers alive today. .His book Baseball Instagrams of Brad Mangin w/ Intro by Pedro Gomez is awesome.

His new book Instant Baseball just arrived and it's a keeper. All shot on iPhone 4S and published on Instagram.

Hey, Kevin Systrom did you ever expect your little photo sharing service would be used by pros to do such nice work?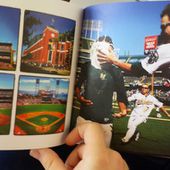 Robert Scoble - Google+ - Stunning baseball photos, all shot on iPhone/Instagram My…
plus.google.com
Stunning baseball photos, all shot on iPhone/Instagram My college buddy, Brad Mangin has shot for all sorts of professional magazines and outlets from…