Robert Scoble - Google+ - A new kinds of real-time website content helper, analytics:…
Wow, a new kind of web now possible: Spinnakr's cofounder, Adam Bonnifield, shows me real time big data analytics.

It lets you see, in real time, where your web visitors are coming from and you can change your content to be different just for those visitors. Very impressive. Hey Tiffaney Fox Quintana we should use this on Rackspace.com!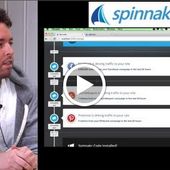 Robert Scoble - Google+ - A new kinds of real-time website content helper, analytics:…
plus.google.com
A new kinds of real-time website content helper, analytics: Spinnakr You might have seen a bunch of news about Spinnakr today. What does it do? Lets…