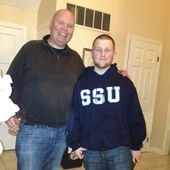 Continuation of Andrew Keen debate with former iPhone engineer Andy Grignon and 18-year-old Patrick.
soundcloud.com
Searching for world-changing technology for Rackspace, world's largest web hosting company.
Did you want more talk about oversharing? This discussion with Patrick Scoble and Andy Grignon continues what we argued about at LeWeb with Andrew Keen (it's a backyard conversation over wine on Friday night, listen in: http://snd.sc/MOlXeN ). Don't know who Andy is? He's a neighbor and also was one of the first guys on the iPhone team at Apple. This contains a bit of adult language that Dave McClure might use on stage and a few things that would get me fired if I didn't work at a cool company like Rackspace Hosting.