"Frustratingly simple": What is it like to develop...
"Frustratingly simple": What is it like to develop with Google Glass.

Yesterday I spent a while with the Thirst development team. They built a Glass app over the weekend even though they don't own a Glass themselves.

Thirst's Glass app is here: http://www.thirst.co/glass What is it? It's a news aggregator based on topics. Put in a topic, like, say, "Oracle," and you'll get news delivered to your Glass about that.

Why is this important? Because developers like Thirst will really decide whether Glass succeeds or not.

Some things they told me:

Glass is frustratingly simple. Already my Glass is seeing too many notifications for the simple "single strip of cards" interface that Glass currently has. Getting back to something a week old is nearly impossible.

Also, the cards themselves can't have much complexity, either, due to the small size of the screen. Google Glass is optimized for a very quick glance at information. If a user experience requires more than a quick glance it'll be hard for developers to build. We both believe that Google needs to do a lot of work to make it possible to separate out streams of cards from each app (I'd like to see just notifications from Google+ and keep those separate from Facebook or Gmail or Path, for instance).

Debugging is a bit frustrating since the emulator doesn't exactly match what actually shows up on screen, so you still need to get access to Google Glass to test your app.

Anyway, listen in here for more about what it's like to develop for Glass.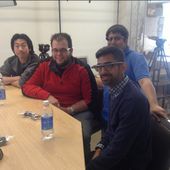 Developing Glass Apps With @thirstlabs Dev Team. Frustratingly too Simple! at Rackspace SF
Searching for world-changing technology for Rackspace, world's largest web hosting company.
https://soundcloud.com/scobleizer/developing-glass-apps-with